Southern goodness, till the last bite, the last drop
Viet Nam News
By Hồ Hoàng & Hồ Ngọc
We were in the mood for good southern food last week when we stumbled on to Món Ngon Sài Thành (Saigon Cuisine), a newly-opened restaurant in Hà Nội.
The restaurant, at 59A Huỳnh Thúc Kháng Street, boasts more than a 100 southern dishes on its menu. We decided we'll try something "new", and settled on gà nướng xôi chiên phồng (grilled chicken with fried sticky rice ) and lẩu thuyền bông (flowers boat hotpot).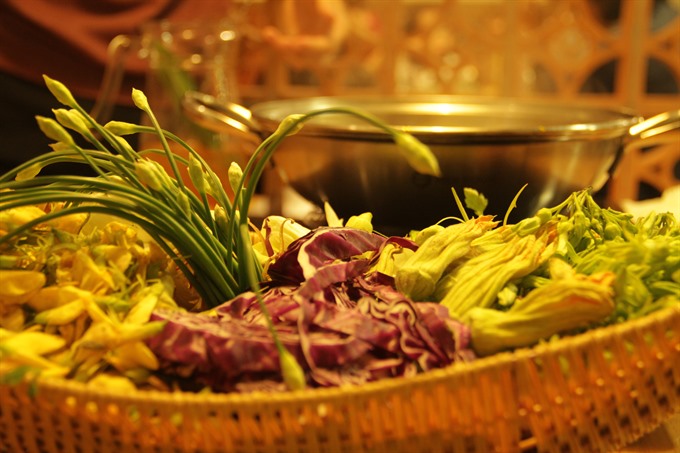 Flower boat: Several "wild" flowers known as thuyền bông are used in the hotpot. They are believed to have detoxifying properties and to help cool down body heat
These are two of the best southern specialties, but not easy to find in the capital city. We placed our order and waited, our eagerness whetting our appetite. We are glad to report that the wait was worth it.
First, the gà nướng xôi chiên phồng. Even before the waitress brought it out, we could smell the roasted chicken and the greasy sticky rice, that is served as a big, puffed up ball. Accompanying the dish was two small bowls of chili sauce and soybean sauce. The plate was nicely decorated with chicken in the middle, surrounded by chopped fresh cucumber and herbs with sweet chilies, the colours combining well to make dish look delicious.
While waiting for the waitress to cut the sticky rice ball into small pieces, we tried the chicken leg. The first bite itself was awesome, and it was clear that the chef knew what he was doing. While the skin was salty and crispy, the meat underneath was soft, and every bite was as good as the first. The chicken had been marinated carefully and was tasty even without the sauces. But the sauce, a southern trademark that mixes soy sauce, onion slices and fried tào phớ (soya bean curd), adds a lot of taste to the dish, so you can't not try it.
The next bite, of a small piece of fried sticky rice, was yummy as well, with the greasy flavour of sesame oil and the sweetness of the rice mixing well. We would highly recommend putting a piece of the fried sticky rice into the mouth and adding a piece of roast chicken to it.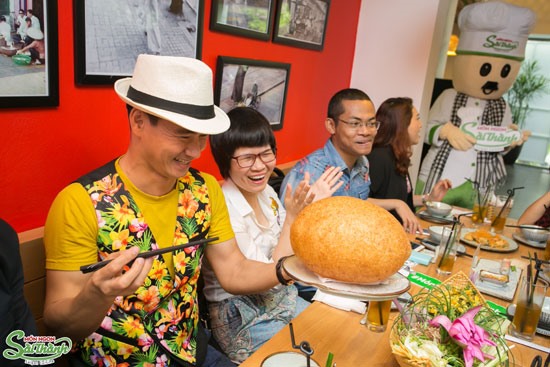 Show time: Famous comedian Xuân Bắc and his friends get ready to enjoy some gà nướng xôi chiên giòn, fried sticky rice with roasted chicken.
Chef's passion
Sharing with us his passion for gà nướng xôi chiên phồng, Món Ngon Sài Thành Chief Chef Nguyễn Thế Anh said: "After six months of practice, overcoming several difficulties, we completed the recipe to make this dish as good as it can get. We are the first to present it. It needs real skill and technique, the perfect temperature and perfect time of marination.. then this decoration, this is art."
We were caught up in the pleasant situation of feeling so good with one dish that we couldn't wait to try the next: Lẩu thuyền bông, a hotpot.
Most hotpots serve different kinds of meat with vegetables like spinach, beans, mushrooms, swamp cabbage, and so on. But this hotpot is different, so we call it the flower boat hotpot. This is new, even for southerners. When it came to the table, the presentation and decoration was so impressive that we had to spend a few minutes just admiring it.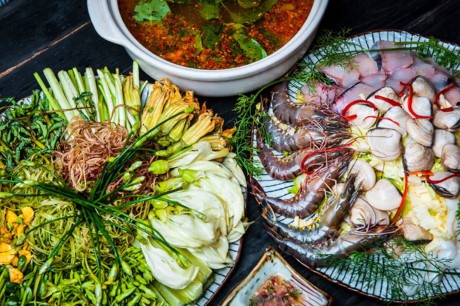 Freshness: The lẩu thuyền bông hotpot includes seafood, fresh vegetables nad flowers. others.
Alongside a plate of fresh hemibagrus fish, fish sauce with special southern chilies and a big pot of broth was a lovely wooden "boat" laden with a veritable garden of colourful vegetables and flowers.
It has been said that this hotpot represents the beauty of nature and culture in the south of Việt Nam. These vegetables and flowers are grown widely on river banks, and this dish evokes images of sailing down the river and enjoying peaceful moments, while picking up the best possible vegetables for the hotpot.
These veggies, originally from the southwest of the country, are imported to Món Ngon Sài Thành in Hà Nội by air, well preserved and of high quality, meeting VietGAP (Vietnamese Good Agricultural Practices) standards.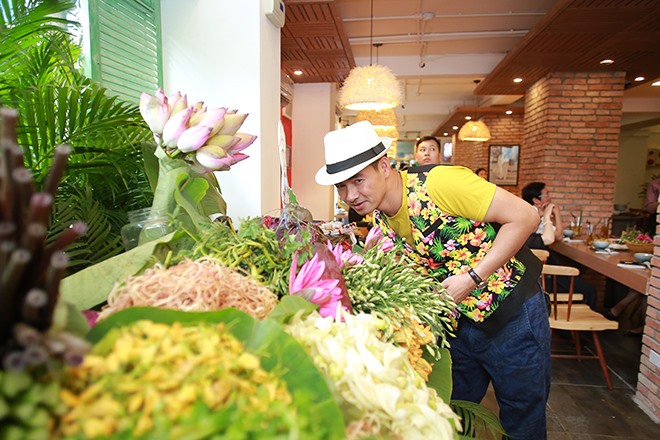 Bouquet banquet: Comedian Xuân Bắc takes a close look at all the flowers and herbs that go into the lẩu thuyền bông, a hotpot he likes a lot.– Photos Hồ Hoàng
Just right
The waitress advised us not to boil the fresh fish slices for too long. There is a small bit of fat right above the flesh, so when you boil it just long enough, they mix just right, and when this is dipped in the fish sauce, the taste is perfect, she explained.
Chef Thế Anh chipped in with more useful information: "The broth is made very carefully in order to bring the best of the southern spirit into this dish. To get the sweetness of the broth exactly right, we use pig bones to create the stock, and then add tomatoes, taro, bones and head of the fish. This is what helps us create a wonderful hotpot broth just like in the south."
From the healthy Telosma cordata to the fresh purple cabbage; from the crunchy kèo nèo to the tiny, yellow điên điển flowers, beautiful and a touch bitter, and the bông, which looks just like a rice plant, but tastes like fresh onion leaves, the bông súng and so đũa, not to mention the bitter cây đắng… the boat is a treasure house.
These vegetables and flowers cook in a few seconds and each has its own flavour, so it is good to try these one by one, to savour each separately.
Thế Anh was not done telling us about the hotpot: "We want to bring everything we can from the southwest to Hà Nội so all our customers can feel the spirit in each bite. For Lẩu thuyền bông, even the fish sauce has that spirit because we mix them with the traditional green chilli from the south. You will be amazed its unique flavor: not too spicy, but pungent."
All this said, the chef was not overdoing it. Every bite and sip took me back to the day my mother used to go to the market at 5am to pick up the freshest vegetables to make her unique incredible soup for the family.
With its simple, elegant decoration and friendly staff serving you in old-fashioned southern style, the high quality ingredients imported from their places of origin, food tasty till the last bite and the last drop, we couldn't have asked for more of Món Ngon Sài Thành. — VNS